Manchester City v Chelsea: Brief Thoughts
By Howard Hockin | 24 November 2019
Howard gives his thoughts after an important win.
(Photo by Laurence Griffiths/Getty)
It's the oldest of clichés, and one of the worst, but that was a must-win game. Against excellent opposition who started the day above City in the table, the result was all that mattered. But the performance itself has relevance when attempting to predict what the future holds.
But what this team have showed is some resilience, coming from behind in two successive home games to secure all three points, something they have struggled to do in the past, though the sample size is small. What's more worrying is that they had to come from behind in the first place. The problems are there in this team, it's clear for all to see. Reinforcements are needed, some difficult decisions may need to be made, and there is a feeling that this is a squad that needs freshening up. It's not just the absent players that are the problem though. Benjamin Mendy needs time to get back to where he used to be having been ravaged by multiple injuries, but shows little of any sign of progress. Players like Sergio Aguero and Raheem Sterling are of course world class and the stats prove it, but still have a habit of turning in average performances occasionally, and these off days need to be reduced. In different ways, perhaps the international break had its effect on them both. At fault against Southampton, Ederson for me was once more culpable with poor positioning for Chelsea's goal when he should have stayed close to his line. Rodri will get there, I'm confident of that, but Fernandinho is missed in the DM position, most notably for his anticipation, aggression and a bit of the dark arts. Perhaps he should move back there, but that relies on Pep trusting Otamendi. What could possibly go wrong? Fernandinho was certainly needed in defence against Chelsea, but he cannot be in two places at once. On top of the individual assessments, play is too slow much of the time, and the intensity and thus the pressing is just not there consistently. Little wonder then that my Twitter timeline post-match resembled one you'd expect after a crushing defeat, but that's Twitter for you. Even after a vital win, it all still feels like a bit of a strugle.
And yet for me this time was always going to come. As I've said repeatedly in the past, City were not going to average in the high 90's point-wise season after season. It simply isn't sustainable to churn out that level of consistency over multiple seasons. Liverpool are showing this too. The reassuring thing for City is that the league leaders are playing no better. And yet there they are 8 points clear of the chasing pack. Getting results whether they deserve them or not. City are adrift because their lows have been lower than anyone else 's around them. Liverpool may not be firing on all cylinders, but they haven't put in 2 performances as appalling as City's against Norwich and Wolves. And then there's the injuries of course.  With that lead, Liverpool have the leeway for a below-par performance or three, whilst City do not. Perhaps it is only the unfancied Leicester City that are actually at the top of their game right now. Could another shock be on the cards? Well probably not, as they have no leeway either, but they're just enjoying the ride.
We should be thankful today though. City did what they had to and after the half hour tightened their grip on the game and despite all their deficiencies should have scored at least 4 goals, not 2. The grip was not particularly tight in the final hour, but it was definite improvement on what went before and Chelsea were restricted to one clear chance for Kante in the 2nd half. Most importantly of all, we should be thankful that City were leading going into the final minute, because if Sterling's goal had been disallowed with the scores level, that would be me packing it in. And I'm aware that we all say things like that a lot – hey, I was packing it in on a near-weekly basis from 1997 onwards but kept turning up, but VAR is in serious danger of ruining the game we all love. Or more to the point, one crap ex-referee and his cohorts are. After a vital, tight 2-1 win over a top 4 rival, there is something seriously wrong with the game if the fans of the victorious side are chanting "fuck VAR" as they stream out of the ground. All the more bizarre is the official confirmation today that the goal was disallowed on the pitch by the linesman prior to the VAR check. Bizarre because he clearly did not put a flag up for a good minute or so.
Whatever the rights and wrongs, it feels like City are fighting the tide at times. As soon as Crystal Palace had their goal ruled out against Liverpool, I tweeted that City weren't winning the league this season and that I was oddly relaxed about it. I'm not sure how serious I was being, but I have seen nothing to change that view. Liverpool have got home games against Brighton and what may well be a manager-less Everton to come, and everything is falling into place for them. All City can do is keep winning and try and get their mojo back. The result on Saturday should help, the injury to Sergio most definitely will not. It's felt like a messy season. They happen, that's life. However good the planning is, things don't always go your way. And if Pep is staying, then I am still going, starting with what may be a much-changed side on Tuesday. Onwards and hopefully upwards.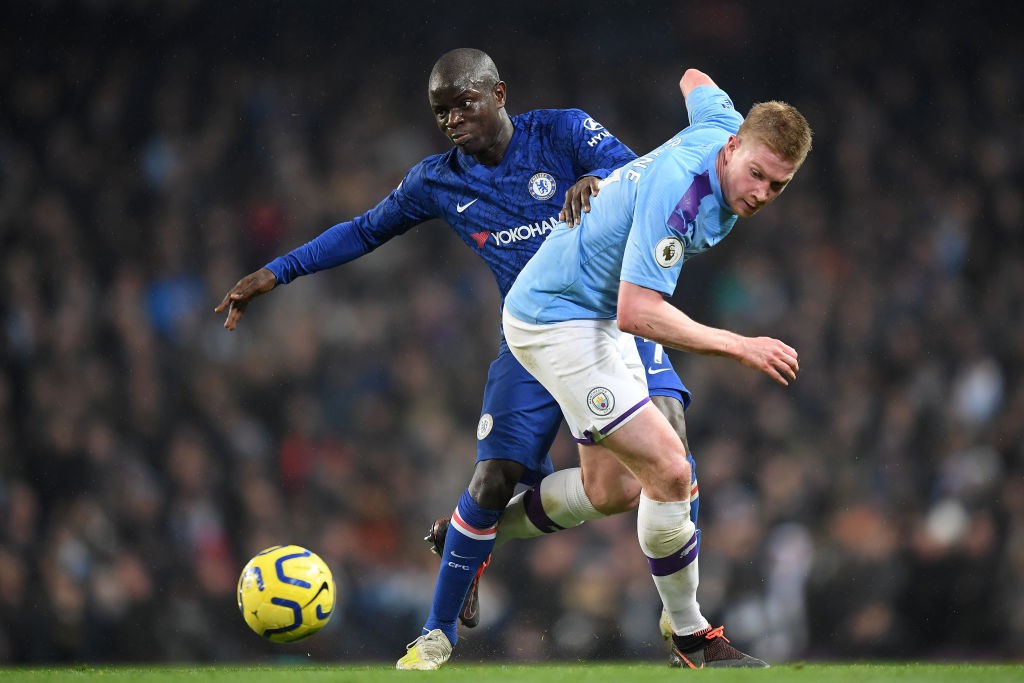 (Photo by Michael Regan/Getty)