Is Riyad Mahrez Manchester City's Latest "Heavy Goal Scorer"?
By Mark Meadowcroft | 04 October 2019
A look at Edin Dzeko, Riyad Mahrez and weighted goals.
(Photo by Michael Regan/Getty)
David Platt's coaching career at Manchester City is a strange one. A very fine player, his coaching record at Sampdoria, Nottingham Forest, England under-21 and most recently, FC Pune City in the Indian Super League has varied from mediocre to dreadful. But as Roberto Mancini's assistant, trusted old friend, informal interpreter and font of local knowledge – he was born in Chadderton and was an apprentice at United before taking the well-trodden path to Crewe Alexandra – he was a big success. He fully earned his bear-hug with Mancini on the pitch as Sergio Aguero was submerged by team-mates in the greatest blue moment of them all.
Platt didn't seem to do much other than drink decent coffee with his old Sampdoria team-mate while answering questions like "Where is Burnley?", "Is there a team in East Bromwich?" and "what is a Sunderland?" – but in a rare media appearance, he came out with a quote that demonstrated a serious understanding of football. Asked about the contribution of Edin Dzeko, he talked about "heavy goals". And every City fan immediately understood what he meant.
Dzeko could be frustrating, awkward, go for long periods without looking likely to influence a match and just look not that much of a player until everything clicked into place. At which point, he was suddenly devastatingly effective. And not only did he score lots of goals, he scored goals almost on demand when they were most needed. Platt's quotes came after a 2-1 win at West Brom. City had come from behind with ten men and Dzeko had come off the bench to score with his first touch to equalise and his last to snatch three points in added time. This wasn't the first time he'd done it. His first goal for City prevented an FA Cup defeat at Notts County. Four months later, City lifted the trophy at Wembley, the first silverware for 35 years. His first Premier League goal was in a 1-0 at Blackburn that all but confirmed Champions League qualification.
In the storied 2011-12 season, due homage is paid to the goal just before Aguero's never to be forgotten moment, and his tone-setting sprint back to the halfway line is also recognised, but given the way the season panned out and the crucial match United lost at Wigan, Dzeko's scrambled winner in a 1-0 on a freezing midwinter night at the JJB Stadium looks seriously important too.
After Mancini and Platt left, Dzeko's goals became even heavier. Yaya Toure will always be the central character of the 2014 Premier League win, but goals against United, Crystal Palace, Everton – combined with a comedy-playing dead act – and, in the pouring rain just as the crowd was getting slightly twitchy, Aston Villa, got City over the line. When he was needed, he did not miss. And it is for this reason that while Edin will never have a statue outside the Etihad, he is a much-loved former player who will take his place in the City Hall of Fame whenever he wants it. He'll always be one of us, and one of our best.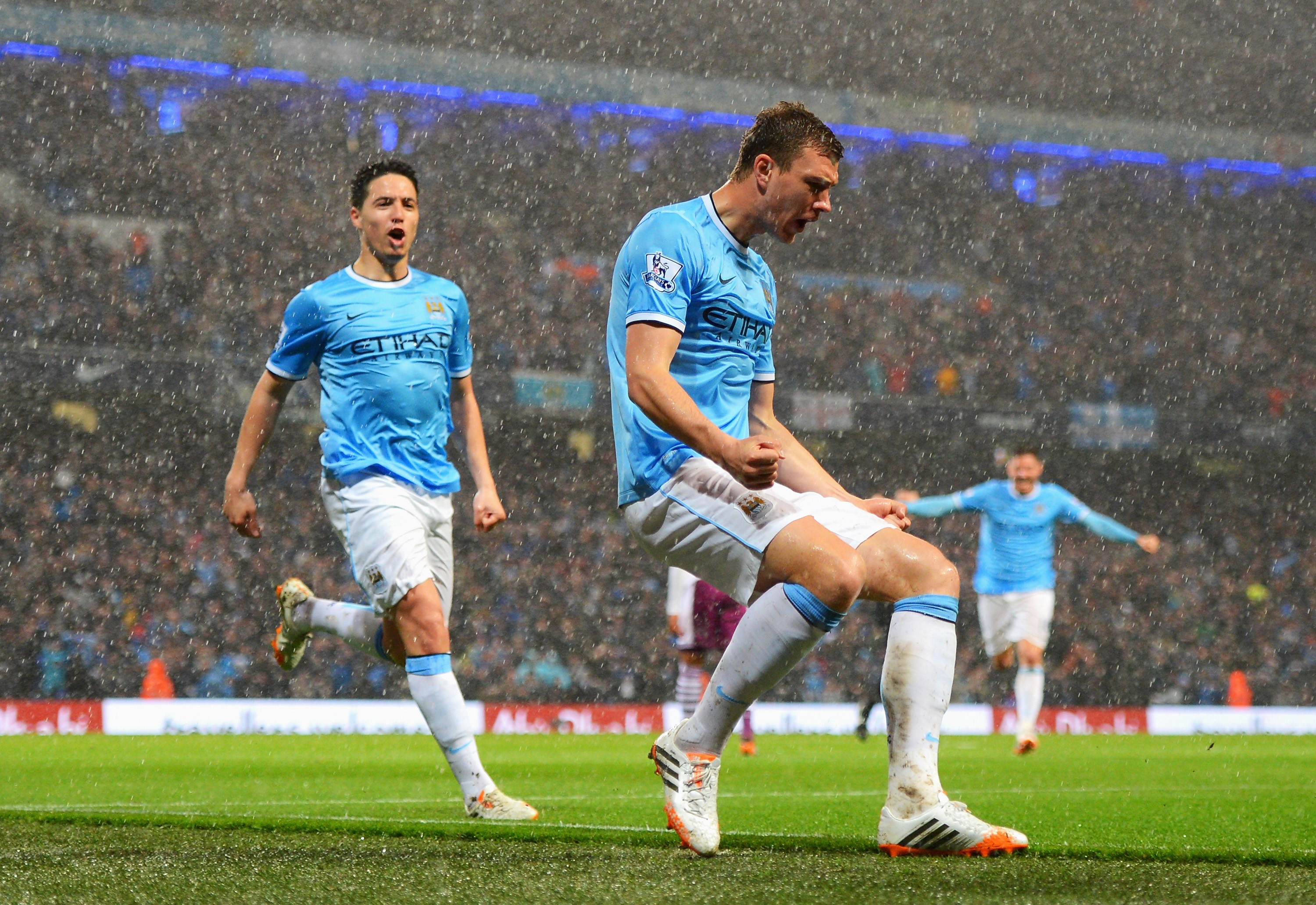 (Photo by Michael Regan/Getty)
The Missing Link
Since his departure and Yaya's long goodbye, we've missed having a heavy goals specialist, a bit like how City took decades to replace Gerry Gow and Neil Pointon – and with regard to the latter, it's seriously doubtful that we ever have. But there's a new kid in town. Riyad Mahrez wasn't signed to score heavy goals, but that's what he's had to do to keep his hat in the selection ring while he adapted to the Guardiola way. Near the end of last season, there were signs that he  had learned Pep's new tricks while retaining the skillset that made him Footballer of the Year, a Premier League Champion and a bit of a mug of Aleks Kolarov as City were soundly beaten by Ranieri's Leicester City at the Etihad. But what Mahrez has done almost since the start of his City career is score useful, important goals at clutch moments. A winner against Spurs on that dreadful pitch at Wembley. A scuffed shot that nonetheless did the job to beat Bournemouth 1-nil, and then a fine goal at Brighton that gave us a margin for error on the final day.  Last weekend at Everton, at an important moment and in the midst of an imperfect team performance, Mahrez was the standout player and scored the goal to re-establish the lead after City conceded a mess of an equaliser.
All this means that when fit, Mahrez has to be in the 18 at least for every match. Even when's not at his best, he is not so much a Plan B as a live threat when things aren't going to plan, someone who can simultaneously fit into the Guardiola system and be a little unorthodox,  a player capable of the spectacular finish but also a Goater-esque bundle over the line. And be in no doubt –  there are times when the latter is extremely welcome to Pep, a bit like the foodie who secretly knows there are moments in life when KFC is the only correct dining decision.
It's also winning the crowd over. City fans like a slow burn of a player, one who takes time to acclimatise but never gives up. The aforementioned Shaun Goater is an obvious example, but there are others too. We like to be proven happily wrong, and particularly if Mahrez continues to score those heavy goals, he's on the way to becoming a blue hero. Whatever, for the first time in his City career, he's got some blue credit in the bank.  At the Etihad  during the Dinamo Zagreb match – as well as the blowhard behind me telling all and sundry that Bernardo was overrated and Guardiola didn't have a clue –  there was constant chatter from all sides about how he become part of the furniture of the squad, and people were withdrawing assessments that they now conceded had been made too soon. The Etihad crowd now know that Mahrez is forcing Guardiola into extremely tough selection decisions. They like that and they like the backstory. You've got to be a harsh critic to deny that integrating into a Guardiola team is hard. Looking back, did it really take Mahrez much longer than De Bruyne, Sterling or Bernardo to get the hang of it? Maybe slightly, but not hugely.
Six months ago, he was the player that might not quite cut it. Now he's the humble star willing to listen and learn from the greatest coach of our time. This is how cult heroes are created. He's also a beautiful player to watch when he's playing well, a throwback street footballer capable of living on his wits. There remains something deliciously authentic about his style. It's not hard to imagine playing with schoolmates on the tough streets of Sarcelles, the Parisian banlieue he grew up in.
And to cap it all off, he scores beautiful goals, and while he hasn't yet scored via his hip from millimetres like your hero and mine The Goat, we know he has it in his locker, and just like Dzeko, that skill may be shown off at a really important time this season. He will never score remotely the quantity of goals Sergio Aguero does and if he scores one more important and dramatic than one of Kun's that immediately springs to mind, they'll have to build a road between Manchester and Leicester and name it after him. But Riyad Mahrez is now, among other things, City's "heavy goals" specialist and a man of some status even within a squad we have never seen the like of before.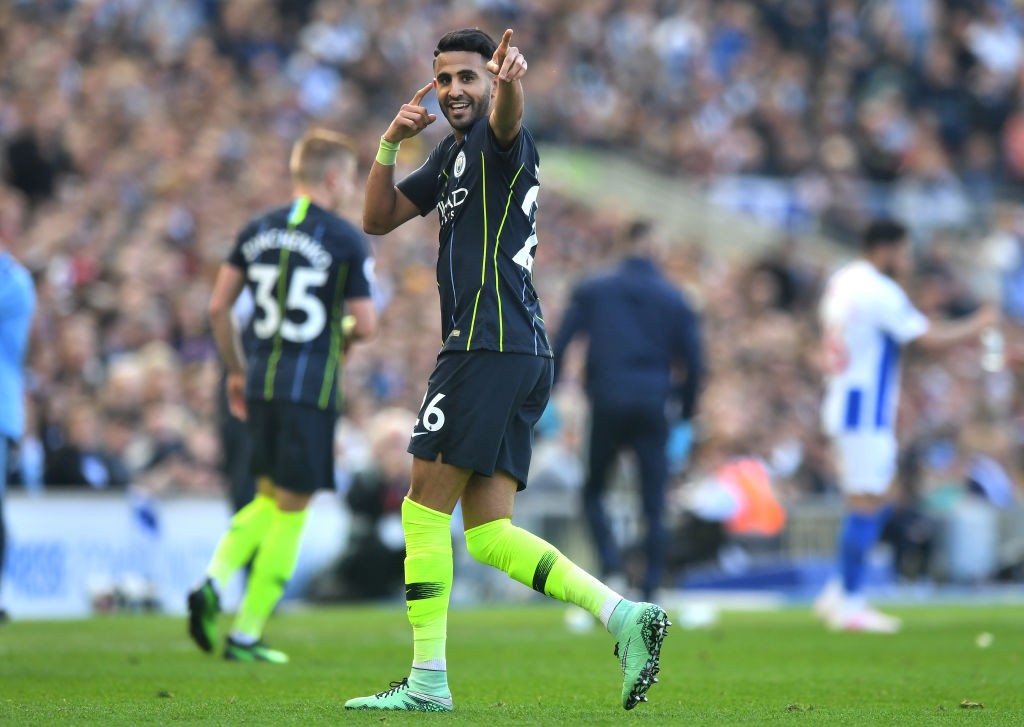 (Photo by Michael Regan/Getty)